关于母亲节的英语作文(通用13篇)
  在现实生活或工作学习中,大家都有写作文的经历,对作文很是熟悉吧,借助作文人们可以反映客观事物、表达思想感情、传递知识信息。你知道作文怎样写才规范吗?下面是小编整理的关于母亲节的英语作文(通用13篇),希望对大家有所帮助。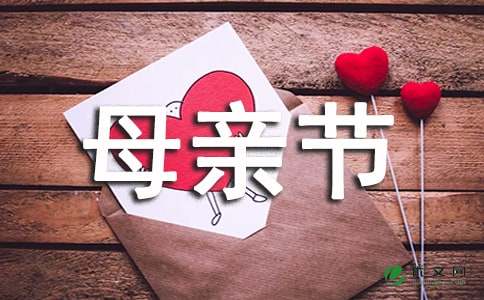 母亲节的英语作文 篇1
  Dear mother: Im your child . Today is Mothers day.I have a lot of saying to you. Thank you your love!Let me know how to be a good student.Thank you your love!Let me know how to make friend. Thank you your love!Let me so happy! I want to say you I love you ! yours xxx 亲爱的妈妈: 我是你的孩子,今天是母亲节,我有许多话要和你说 谢谢你的爱,让我知道怎样成为一个好学生。谢谢你的爱,让我知道怎样交朋友,谢谢你的爱,让我如此的幸福 我想对你说:"我爱你" 你的XXX 还有一篇:Mothers Day Introduction As a thank his mother for Mothers Day holiday, first appeared in ancient Greece, time is the annual January 8, while in the United States, Canada and some other countries, it is every year the second Sunday in May, a number of other countries dates were the same (see below "the world celebrate Mothers Day time is different"). On this day mothers often receive gifts. Overseas, the carnation flower is regarded as dedicated to his mother. In China, mother lily flower flower, also known as Wang Youcao. Liliaceae Hemerocallis Hemerocallis is a perennial herb, fleshy rhizome, leaves long, slender top out orange or orange flowers, very beautiful, it is not only for people watching, called the lily buds, but also as a vegetable for human consumption , in the widely cultivated in South and North.(母亲节介绍 母亲节作为一个感谢母亲的节日,最早出现在古希腊,时间是每年的一月八日,而在美国、加拿大和一些其他国家,则是每年5月的第二个星期天,其他一些国家的日期也并不一样(参见下面"世界各国庆祝母亲节的时间都不尽相同")。母亲们在这一天通常会收到礼物。 在国外,康乃馨被视为献给母亲的花。 而我国的母亲花是萱草花,又叫忘忧草。 萱草 萱草是百合科多年生草本植物,根茎肉质,叶狭长,细长的枝顶端开出桔红或桔黄色的花,十分艳丽,它不仅供人观赏,花蕾叫金针,也可作蔬菜供人食用,在我国南北方广为栽植。)
  母亲节的英语作文 篇2
  It was Mother's Day. Sun Zheng thought he should do something for his mother. He decided to help his mother do some housework. After school he went to a shop to buy some food on his way home.
  When he got home, he did his best to cook some nice food,though he couldn't do the cooking well. Thenhe cleaned the room. He felt very tired, but he was very happy.
  When his father and his mother came back and saw the clean rooms and dishes which weren't so nice, they were very happy.They had their supper together. His mother said, "Thank you,my child!"
  今天是母亲节。孙峥觉得应该为妈妈做点事,他决定帮妈妈做些家务。放学回家的路上,他去商店买了食品。到家后,他尽全力做些好吃的,尽管他并不擅长烹任。做完饭,他又打扫了房间。他感觉有些累,但仍然很高兴。
  当父母回来后,看见干净的房间和并不太荚味的菜,他们依然很高兴。他们一起吃了晚饭。妈妈说:"谢谢你,孩子。"
  母亲节的英语作文 篇3
  Today is Mother's Day. I know some of my classmates are going to help their mothers with the housework, others .are going to buy some flowers for their mothers. I want to say to her that I love her very much. But as a boy, it is a bit difficult for me to show my heart. I think only girls can do that.
  My mother is very kind. She takes care of me day and night.
  She spends little money, but buys anything for me that I need.
  This time I must show my love. I am going to give her a card and write like this, "I love you, mother!" I am going to put it under her pillow.
  今天是母亲节。我知道一些同学打算帮妈妈做些家务,还有一些同学打算给妈妈买些花。我只是想对妈妈说一声,我非常爱她。但是对我来说这样表达我的情感有点儿难,因为我是个男孩。我觉得只有女生才这样做。
  我妈妈是个非常善良的人。她对我照顾得无微不至。她自己很少花钱,但能给我买我需要的任何东西。
  这次我一定要表示我对她的爱。我打算送她一张写有"我爱你,妈妈"的卡片,我还打算把它放在她的枕头下面。
  母亲节的英语作文 篇4
  明天就是"母亲节,"送什么礼物给妈妈呢?
  Tomorrow is mothers day. Whats the gift for mother?
  左想右想,怎么也想不出送什么礼物给妈妈。心想:还是给妈妈送一张贺卡吧!我趁着妈妈去菜场买菜时不在家的时候,我拿来彩笔、彩纸、剪刀等工具。在彩纸当中,我一一精选,终于给妈妈挑选了一个妈妈最喜爱的颜色······大红色。我在彩纸上先用彩笔写上祝福语,再用彩笔涂上颜色画上画。这时,突然门铃响了,妈妈回来了。妈妈看见我用彩笔在彩纸上画画,妈妈不停地问我:"文文,你在画什么?"我说:"妈妈您去忙吧!这是秘密,等我做好了再告诉您。"我把贺卡做好了,然后用彩纸做成漂亮信封把贺卡放进去,高高兴兴地送到妈妈的手中。妈妈接过贺卡连续问我:"这是什么?"我说:"您拆开信封就知道了。"在妈妈打开贺卡时,我对妈妈说:"妈妈,我提前祝您节日快乐!"妈妈看了贺卡很感动,连声夸我,文文真是个懂事的好孩子。
  Think left and think right. I cant think of a gift for my mother. Thought: or send a card to my mother! I took advantage of my mothers absence when she went to the market to buy vegetables. I used colored pens, colored paper, scissors and other tools. Among the colored paper, I selected one by one, and finally chose a mothers favorite color... Big red for her. I first write the blessing words on the colored paper with the colored pen, then paint the color with the colored pen to draw. At this time, suddenly the doorbell rang and mother came back. When my mother saw me drawing on colored paper with a colored pen, she kept asking me, "Wen Wen, what are you drawing?" I said, "Mom, please do it! Its a secret. Ill let you know when Im done. " I finished the card, then made it into a beautiful envelope with colored paper, put it in, and happily sent it to my mother. My mother took the card and asked me, "what is this?" I said, "just open the envelope." When my mother opened the card, I said to her, "Mom, I wish you a happy holiday in advance!" My mother was very moved when she saw the greeting card. She praised me repeatedly. Wen Wen Wen is a good and sensible child.
  这是我这一周做的最有意义的事情。
  This is the most meaningful thing Ive done this week.
  母亲节的英语作文 篇5
  In the early morning, my sister went out and brought home a bunch of pretty flowers. Right after my mother got up out of bed, we said "Happy Mothers Day"! to her and gave her the flowers. My mother was very happy; she smiled and said, 'How wonderful the flowers look! Thank you! Also, we told her we were going to do all the housework for our beloved mother, and she could take a rest for a day. In the beginning, we were excited about all the work we can do at home. Before long, we found that the housework seemed to be endless, There was cooking and washing, and cleaning to do, and there was shopping to do, too . During the dinner hour, the kitchen seemed so busy. My father was making a salad, my sister was baking a pie for dessert, and I was washing rice and vegetables, and there were many other things to do. Finally, the dinner was ready; it was two hours behind the usual schedule. The food was not as delicious as my mothers. Nevertheless, my mother and father enjoyed it, and felt very proud of their daughter and son.
  母亲节的英语作文 篇6
  我盼星星、盼月亮,终于盼到了母亲节,因为在母亲节这一天,我们可以回报母亲对我们的关爱。
  I look forward to the stars, the moon and finally mothers day, because on Mothers day, we can return our mothers love for us.
  老早就听说,有人在母亲节里举行一些与母亲有关的节目进行联欢、比赛。于是,这一天妈妈也如法炮制办起了一个《母亲节》感恩联欢会,并且以比赛的形式举行,根据你的表演评分,表现好的还有奖品。
  Ive heard for a long time that some people hold some programs related to mothers on Mothers day to get together and compete. So on this day, my mother did the same thing to hold a mothers Day Thanksgiving party in the form of a competition. According to your performance score, there are prizes for good performance.
  我们的比赛一共有四个项目:一、自己写一篇赞美妈妈的诗歌并朗诵;二、才艺表演;三、母亲节知识抢答;四、给妈妈洗脚活动。最后评出一、二、三等奖及鼓励奖。
  There are four items in our competition: first, write a poem to praise mother and recite it; second, talent performance; third, answer for knowledge on Mothers day; fourth, wash feet for mother. Finally, the first, second and third prizes and encouragement prizes are awarded.
  妈妈第一个表演,爸爸随后,弟弟紧追,我最后,我们一口气闯过四关,最后,我如愿以偿得了第一,弟弟第二,妈妈第三,老爸当然是鼓励奖了。哈哈!成绩一公开,大家便向我发出热烈的掌声。哦!差点忘了告诉你们,我这次还自告奋勇当了主持人呢,而且爸爸妈妈还夸我主持的是想当不错的。
  Moms first performance, Dads follow-up, brothers follow-up, I finally, we went through four hurdles in one breath, finally, I got the first, brothers second, moms third, Dads encouragement award of course. Ha ha! As soon as the results were made public, everyone gave me warm applause. Oh! I almost forgot to tell you that I volunteered to be the host this time, and my parents also praised me for being a good host.
  通过今天的母亲节,我懂得了很多道理,母亲不但赋予了我们生命,而且还养育我们、教育我们,为了我们的健康成长,她们操碎了心,我们以后一定要讲究卫生、好好学习,用好的身体、好的成绩来报答妈妈。
  Through todays mothers day, I learned a lot of truth. Mother not only gave us life, but also raised and educated us. For our healthy growth, they broke their hearts. We must pay attention to health, study hard, and repay our mother with good health and good grades.
  通过这次母亲节活动,我还知道了母亲节是每年五月的第二个星期天,这个节日最早起源于古希腊。
  Through this mothers Day activity, I also know that mothers Day is the second Sunday of May every year, which originated in ancient Greece.
  这个母亲节过得真快乐!真难忘!
  How happy mothers Day is! Its unforgettable!
  母亲节的英语作文 篇7
  我的妈妈温柔的时候,简直就是一个高贵美丽的公主。但是一凶起来,比巫婆还有恐怖一百倍,跟母老虎不相上下。这时候,我的皮就要绷紧一点,别惹到她,乖乖的躲起来,免得遭殃。
  When my mother was a gentle, noble and beautiful princess. But the evil, than a witch and horror one hundred times, comparable with the tiger. At this time, my skin to tighten a little, dont bother her, just hide, lest suffer.
  她跟爸爸是同龄的,两个人很相像。对我好的时候,天上的星星都会为我摘下来,可是凶起来,根本没把我当成宝贝儿子,简直六亲不认。
  She and her fathers age, two people are very similar. It is good to me, all the stars in the sky will be for me to pick, but evil, dont treat me as a baby son, almost no one.
  大家都爱唱"妈妈的眼睛"这首歌,觉得妈妈的眼就像天上的星星,可是我的妈妈眼神犀利,比刀子还锐利,只要她用这种眼睛瞪我,我就毛骨悚然。
  We all love to sing "my mothers eyes" this song, my mothers eyes like stars in the sky, but my mother look sharp knife is sharp, than, as long as she is with the eyes staring at me, I will.
  我妈讲话声音很像男生,沙哑低沉,虽然她的长相其实很美丽,如果她的声音也完美的话,那就是全宇宙最没得挑剔的妈妈了。
  My mother speaks like boys, hoarse bass, although her face is very beautiful, if her voice is perfect, that is the whole universe have no particular mother.
  我妈妈做家务很勤快,但是她有一怕。最怕老鼠,不管是大鼠、小暑、天竺鼠、小黑鼠,通通都怕,跟小叮当可以结拜了。不过,只有一种老鼠她不怕,你猜猜看!是"打地鼠"的"地鼠",她打得可棒了,英勇无比。
  My mother do the housework very hard, but she has a fear of. The most afraid of mice, rats, whether it is slight, black rat, guinea pig, I fear, with Tinker Bell can be sworn. However, only a mouse she not afraid, you guess! "Mouse" "hamster", she played can be great, brave.
  妈妈很爱我,我要什么都会买给我,只可惜常常重复,万一不重复的话,我会更开心。
  My mother is very love me, will give me what I want, but often repeat, do not repeat the words, I would be more happy.
  谢谢你!亲爱的妈妈!当你的儿子真的很幸福哦!
  Thank you for your! Dear mom! When your son really happy Oh!
  母亲节的英语作文 篇8
  Tomorrow is mothers day. I want to give my mother a surprise.
  I thought I wanted to make a breakfast for my mother. I got up early in the second day, bought a stick in the early market, and returned home to give my mother a few dishes and rice porridge. When my mother woke up, he said, "good smell, who is cooking today?" Its so fragrant. " "Happy mother mothers day," Mama laughed and said, "my daughter grows up and will be considerate of my parents." I laughed and I couldnt wait for my mother to taste the food I made.
  At the entrance of my mother, she frowned and then cried again. I was anxious to say, "Mom, is it hard to eat my food, mom, you dont cry, Im sorry," mother said, "its delicious, mom is moving, happy crying." I put my heart down and ate it. I just threw it out of my mouth and said, "this is what people eat. Some are too sweet, some too salty, "mother said," this dish is the most delicious meal I have ever eaten in my life. "I held my mother and said," Mom, no matter what happened, I still love you. "
  Mothers embrace is our harbor of refuge. There is a mothers place to have a family. I wish all mothers in the world happy holidays!
  明天是母亲节,我想给母亲一个惊喜。
  我想了想决定给妈妈做一顿早餐,第二天我早早起床,到早市买了油条,回到家给妈妈做了几个菜和小米粥,等妈妈醒来时说:"好香呀,今天是谁做饭呀?这么香。""妈妈母亲节快乐"妈妈开心的笑了说:"我的女儿长大了,会体谅父母了'我开心的笑了,迫不及待的让妈妈尝尝我做的饭菜
  妈妈一入口,皱了一下眉头,随后又哭了,我着急了说:"妈妈,是不是我做的菜难吃呀,妈妈你别哭,对不起"妈妈说:"很好吃,妈妈这是感动的,开心的哭。"我放下心了,也吃了起来菜刚一入嘴,我就吐了出来说:"这哪是人吃的呀。有的太甜,有的太咸"妈妈说:"这顿菜是我这辈子吃的最香的一顿菜了"我抱住妈妈说:"妈妈,以后不管发生了什么,我依然还是爱着你。"
  妈妈的怀抱是我们避风的港湾,有妈的地方才有家,我祝全天下的妈妈节日快乐!
  母亲节的英语作文 篇9
  今天,我拿起一张卡纸,做起贺卡来,准备给妈妈带来一个惊喜。你一定会问:做贺卡干什么?我告诉你:今天是母亲节。
  Today, I picked up a card and made a greeting card to surprise my mother. You must ask: what do you do with greeting cards? I tell you: today is mothers day.
  我想了想,做个什么形状呢?爱心?长方形?还是正方形?不行,太普通了,我灵机一动,想出了一个主意:做个"笔记本电脑"形。
  I thought about it. What shape should I make? Love? Rectangle? Square? No, its too common. I came up with an idea: make a "laptop" shape.
  我将卡纸对纸,再展开,在一边画上很多按钮,然后画上两块磁铁,这样就不容易打开了。最难的要数"屏幕"了:上面既要写字,又要画画。费了九牛二虎之力,终于大功告成了。感谢妈妈,赐予我生命,在这特别的.日子里,愿妈妈健康快乐!妈妈乐滋滋地夸我真懂事。
  I put the paper jam on the paper, unfold it again, draw a lot of buttons on one side, and then draw two magnets, so its not easy to open it. The hardest thing to do is "screen": you have to write and draw on it. It took nine cows and two tigers to finish. Thank you, mom, for giving me life. On this special day, may mom be healthy and happy! Mom cheerfully praised me for my understanding.
  在今后的日子里,我要为妈妈做更多的事情,让她天天都快乐、健康。
  In the future, I will do more for my mother to make her happy and healthy every day.
  母亲节的英语作文 篇10
  Tomorrow is the annual mothers day, every year the second week of may. Now think of the original is so selfless mother. She always have given us the best of things, she would rather have their hard bitter child, she is in the planning for the future of children, there is such a selfless man?
  Mother always help when I am in trouble, always bring comfort, when I sad always selfless dedication and you planned to. If I had to use one word to describe the mother that I would say: "the selfless dedication, you planned to." So later in dispute with my mother must be more considerate of mom, dont let them sad.
  A few times, I do not pay attention to health, only in a hurry. Later, mother behind have been help me to tidy up, when I think of it, always very grateful to her. Mom: thank you, is your selfless feeding me, thank you!
  Later I wish you smooth sailing, all the best!
  明天是一年一度的母亲节,每年5月的第二个星期。现在想起来原来母亲是那么的无私。她总把最好的东西留给我们,她宁愿自己辛苦也不愿意苦孩子,她处处在为孩子的未来做打算,还有这样无私的人吗?
  妈妈总在我困难时带来帮助,总在我伤心时带给安慰,总是无私奉献而不求回报。如果让我用一个词来形容母亲那我会说:"无私奉献,不求回报。"所以以后在跟妈妈争执时一定要多多体谅妈妈,不要让她们很伤心。
  有几次,我特不注意卫生,只赶时间。后来妈妈在后面一直帮我收拾,当我想起来,总很感谢她。妈妈谢谢您,是您无私的哺育了我,谢谢!
  以后祝您一帆风顺,万事如意!
  母亲节的英语作文 篇11
  My mother is very busy at work, but my mother is very concerned about me. My mother took me to my friends in my spare time to let me know many manners. When I was a child, my mother taught me how to manage money by visiting the bank with lucky money. Since I was a little girl, I have been developing my independence and doing things by myself, so now I have strong independence. My mother is trained so that I can lay a good foundation in the future. I want to thank my mother very much.
  Today is the two week of May, that is, mothers day. The weather is fine, but there is not a touch of hot sunshine. The cool wind is blowing on the face and feels a bit cold.
  In the morning, since mother didnt know that today is mothers day, then I would give her a surprise. I thought to the right, after a morning effort, I finally decided to send a beautiful flower and a beautiful greeting card. After I decided, I would "start". First, I put the beautiful flowers on the beautiful wrapping paper. Then, I picked up some blessings about mothers day in the book, and then I copied the card and then put it on the card. The cards and flowers were placed at the table. At night mother suddenly found a beautiful bunch of flowers and a beautiful card on the table. Mother knew it was I sent it. Mother was happy, and I said to my mother, "Happy Mothers day." Mother laughed happily.
  I also wish the mother of the world: "Happy Mothers Day!"
  我的妈妈工作很忙,但妈妈非常关心我。妈妈利用空余时间带我去朋友做客让我懂得很多礼仪。我从小的压岁钱妈妈教育我把压岁钱存取银行让我学会怎样理财。从小妈妈就培养我的独立能力,自己的事情自己做,所以现在我的独立能力很强。妈妈这样培养是为了我将来打好基础,我要非常感谢我的妈妈。
  今天是五月的二个星期,也就是母亲节。天气很好,但没有一丝炎热的阳光,凉爽的风吹在脸上,感觉有一点寒冷。
  早上,既然妈妈不知道今天是母亲节,那就瞒着她,我就给妈妈一个惊喜吧!我左思右想,我经过一个早上的努力终于决定了,就送一束美丽的花和一份精美的贺卡,决定后,我便"动工"了,首先,我把卖好的花包上了精美的包装纸,然后,我又在书上摘抄了一些关于母亲节的祝福语,抄贺卡上,再把贺卡和鲜花放在了桌边, 晚上妈妈突然发现桌子上有一束美丽的花和一份精美的贺卡,妈妈一看就知道是我送的,妈妈很高兴,我对妈妈说:"妈妈母亲节快乐。"妈妈开心地笑了。
  我也祝愿天下的妈妈:"母亲节快乐!"
  母亲节的英语作文 篇12
  The mother line, wandering clothing leaving thick seam, Italy to the fear of delay who grass-inch heart, reported in the apartments?" The famous Tang Dynasty poet Meng Jiaos several lines, lively and vivid expression of the mothers deep affection and gratitude to their mother.
  慈母手中线,临行密密缝,意恐迟迟归,谁言寸草心的恐惧,报得三春晖?"唐代著名诗人孟郊的几行,活泼生动的表达对母亲的深厚感情和感谢他们的妈妈。
  Mother love is great, the love of my mother s meticulous mother not only in the everywhere in the life care, often inquire after sb.s life, still learning encouragement, be good at giving systematic guidance mother usually tells me, great and little famous scientists study hard story, teach me to want to be example with them, learn from them, to do a a diligent, civilized, polite good all-round development of children a mother to me like the spring sunshine brings me warmth as in reading daughter, I always warn myself to study hard, with excellent results to repay his mother.
  母亲的爱是伟大的,生活中处处照顾我母亲的细致的母亲不仅爱,经常询问某人的生活。,还在学习的鼓励,循循善诱的母亲常告诉我,大的和小的著名科学家努力学习的故事,教我要的例子他们,向他们学习,做一一勤奋,文明,礼貌的全面发展的好孩子的母亲给我像春天的阳光带给我温暖如女儿读书,我总是提醒自己要努力学习,用优异的成绩来报答母亲。
  Today is mothers day, it is Sunday, I changed the previous Sunday the habit of sleep, make ones way noiselessly to ground up, took out two eggs from the refrigerator, and then imitate the grandmother usually boiled method, in the pot with water, lit the gas stove after the water is boiled in boiling water, to beat two eggs, not while the two white oval eggs in a pot in the formation of a I turn off the gas, from the cabinet took out two bowls, each bowl with each containing an egg, a bowl for the grandmother, a bowl to the mother.
  今天是母亲节,今天是星期日,我改变了上星期日的睡眠习惯,蹑手蹑脚地上,拿出从冰箱里拿两个鸡蛋,然后模仿奶奶通常煮法,在水锅,点燃了煤气炉,水烧开后,放入沸水中打两个鸡蛋,两个白色的椭圆形,而鸡蛋在锅在我关掉瓦斯的形成,从柜拿出两个碗,每碗都包含了一个鸡蛋,一碗一碗的祖母,母亲。
  When my mother took me on the egg, excitedly asked me:" how do you think of this to my eggs?" I smiled and said to her mother:" your grandmother and prepare breakfast for me, today is mothers day, I think I made a breakfast as a mothers Day gift for you!" Listen to me, my mother hugged me and said: " you are a good boy!" My mother and I tightly hold together, my heart welled up in a warm heat flux.
  当我的母亲带我的蛋,兴奋地问我:"你认为这对我的鸡蛋怎么做?"我笑着对妈妈说:"你们的祖母和我准备早餐,今天是母亲节,我想我做了一份早餐作为母亲节的礼物送给你!"听我说,我的母亲抱着我说:"你是个好孩子!"我的母亲和我紧紧的抱在了一起,我的心充满了温暖的热通量。
  母亲节的英语作文 篇13
  在我的记忆中,妈妈是一个大忙人,一天到晚都在忙,这些事情里包含了她对整个家庭的爱。
  In my memory, my mother is a busy person, busy all day long, these things include her love for the whole family.
  妈妈总是将家里打理得井井有条,把一家人都照顾的无微不至,来我家做客的人都会对妈妈竖起大拇指,说她勤劳能干。有时候,爸爸遇到一些难题,妈妈也会帮助一起解决。不过,妈妈将她大半精力全放在我身上。在学习上,她虽然对我很严格,但在生活中,她却是一位温柔的妈妈。
  My mother always takes care of my family in an orderly way. Everyone who comes to my house will give her a thumbs up and say that she is hardworking and capable. Sometimes, when Dad encounters some problems, mom will help to solve them together. However, my mother put most of her energy on me. In study, she is very strict with me, but in life, she is a gentle mother.
  记得有一年冬天,我感冒了,头有点痛,没跟妈妈说仍然坚持做作业,以为过一会儿就好了,等做完作业妈妈叫我吃饭时,我才发觉浑身提不起劲,头也更痛了,这时我才告诉妈妈。妈妈一听就急了,赶紧放下手中的活,马上给我量体温,"哇,39°C,你怎么不早告诉我啊!"妈妈心疼得快哭了,急忙去药店为我去买药。妈妈回来时的样子,我现在还记得十分清楚。天气很冷,但她的头上却冒着一层层汗珠,双手却被冷风吹得通红,可她全然不顾自己,没有片刻停息,径直走向厨房为我煎药。
  I remember that one winter, I had a cold and my head hurt a little. I didnt tell my mother that I still insisted on doing my homework. I thought it would be better later. When my mother finished my homework and asked me to eat, I found that I couldnt get up all over and my head hurt more. Then I told my mother. As soon as Mom heard this, she was in a hurry to put down her work and take my temperature. "Wow, 39 ° C, why didnt you tell me earlier?" My mother was so sad that she cried and hurried to the drugstore to buy medicine for me. I still remember how my mother looked when she came back. It was very cold, but there were layers of sweat on her head, her hands were red by the cold wind, but she didnt care about herself. Without a moments rest, she went straight to the kitchen to cook medicine for me.
  我望着妈妈的背影,泪水不禁湿了眼眶。在煎药的时候,妈妈也没有忘记照顾我:一会过来看看我,一会儿又端来热开水,一会儿又去看药煎的怎么样了。药煎好后,妈妈将药倒出来,小心翼翼地端到我的面前,喂我喝药,一边喂还一边说着:"真是急死我了,快点喝药,赶紧好起来!"中药的味道很重,但我却喝出了甜味,就像妈妈身上的味道。
  I looked at my mothers back, tears could not help but wet my eyes. In the decoction, my mother also did not forget to take care of me: come to see me later, bring hot boiled water later, and go to see how the medicine is fried later. After the medicine is fried, my mother pours it out and carefully brings it to me. She feeds me and says, "Im really in a hurry. Hurry up and get better!" The taste of traditional Chinese medicine is very strong, but I drink it sweet, just like the taste of my mother.
  妈妈的汗水渗透着对家庭的爱,我的健康成长更是妈妈用汗水灌溉的结果。这汗水是我最喜欢的味道,它让我感到幸福,感到快乐。
  My mothers sweat permeates my love for my family. My healthy growth is the result of my mothers sweat irrigation. This sweat is my favorite taste. It makes me feel happy and happy.
【关于母亲节的英语作文(通用13篇)】相关文章: